Young Guns
Sunday, September 07, 2008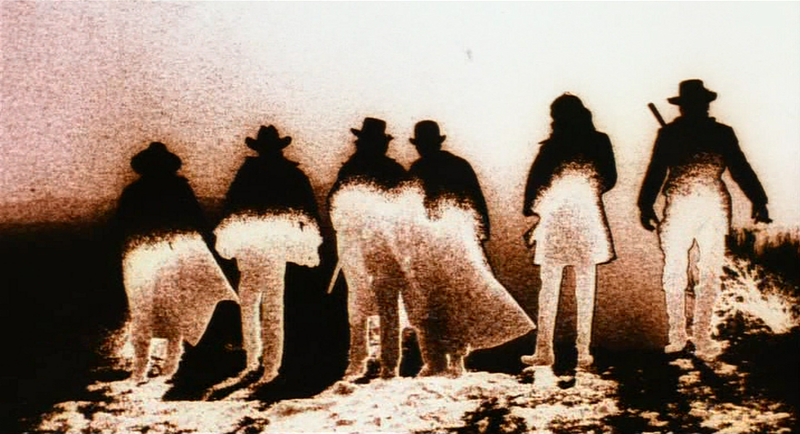 One thing that amazes me about Young Guns is that it must be one of the few films where the bad guy is an Irishman and the good guy is English. Surely I thought all Limeys were dastardly rapscallions. Apparently not.

But then again, read between the lines and John Tunstall (Terence Stamp) might not be all that he seems. Here's a guy who's come to America to make money by selling cattle and who has a group of 'Regulators' to make sure that no one steals from him. Seems quite reasonable, doesn't it? But all the Regulators are young men and nearly all of them are pretty boys. I'm not suggesting that they have to bend over for their supper (well, not all the time), but I'm quite sure that Mr Tunstall spends a lot of time in his bedroom beating himself raw.

I mean, just take the dialogue between him and Doc (Kiefer Sutherland) in the opening scene when they're in town. He says he'll buy Doc a drink but he also instructs him not to tell the other boys. Ooh, it'll be our secret, eh? Yeah, just like the 'happy time' we have together is a secret. Sssh. Don't tell the other boys!

And then later Tunstall takes Billy (Emilio Estevez) into town and buys him some nice new threads. Talk about grooming.

But I like the fact that the film acknowledges the sexual undertones. There's a great bit where Murphy (Jack Palance) confronts Tunstall and suggests that the Englishman might have an unhealthy interest in his Regulators. 'Well, I've had you pegged as the type who likes educating young boys.' Palance's line delivery is excellent.

And then there's a scene where all the Regulators have to do a bit of reading (Tunstall sits in his rocking chair, either rocking back and forth like a dirty old perv getting a sexual kick out of the readings or rocking back and forth like a benevolent father figure – it depends on how suspicious your mind is). Billy is handed the newspaper that the other boys have been reading from, and to everyone's surprise, reads superbly. Tunstall then gets up, says well done and ruffles Billy's hair. Billy instinctively flinches away. Maybe he too senses that Tunstall's kindness has a price.

But thankfully the film never turns into Lolita with guns and boys, and we're left with the assumption that Tunstall really was a great guy. Unless of course the boys all willingly proffered themselves to the Englishman, in which case you've got an action version of Brokeback Mountain…which would be pretty neat.

But the scene where Tunstall is murdered is rather strange. A bunch of Murphy men turn up behind him and shoot the shit out of him. Stamp then stands up in a very odd way, like someone is pulling him up from a crane. It's a death scene that I've always thought was odd, even when I was a kid.

One of the many things that makes Young Guns such a supremely enjoyable film is its grim sense of humour. After the Tunstall killing, the Regulators are deputised. They're supposed to serve eleven warrants and expose Murphy's corruption. But instead Billy decides to go on a killing spree. The first guy, called Henry Hill, he kills in the outhouse. But what makes the scene so great is the way that Henry is killed. Both Billy and Henry are going for a piss, and Billy starts giggling when Henry lets off a massive fart, but then Billy turns around. He then shoots Henry with his gun jutting through his fly. And then while cackling like a hyena, he shoves the warrant in the dead man's mouth and tells him he's under arrest. Billy's borderline psychotic, but he's so joyful that you're always on his side.

Another funny scene is when Billy kills Sherriff Brady. He skips behind the Sheriff and throws his hat into his path. He then steals the Sherriff's guns and murders him in cold blood. It doesn't sound like a recipe for hilarity, but it is.

And Billy also has a great habit of delivering Bond-like one liners. After he and the Regulators kill a couple of guys, he says, 'Court adjourned.' Roger Moore would be proud.

In the mouth of this madness, the only voice of reason is Dick (Charlie Sheen). He insists that the Regulators are the law and that they shouldn't be shooting everyone up. But he's such a joyless character, telling Billy that he isn't Robin Hood and then later taking an age to say grace ('Dick, it's getting cold!'), that you know he has dead meat written across his forehead.

To show just show square Dick is, he doesn't even join in with everyone else when they take peyote. And by the way, what a genius idea it was to have cowboys on drugs. What a glorious 80s rock 'n' roll Western this is.

I'm sure most people, with good reason, will most fondly remember the drug taking sequence for Dirty Steve (Dermot Mulroney) talking about his chicken, but I actually prefer the moment with Charlie (Casey Siemaszko) on the cliff. He stands there, saying, 'This is great' and then promptly vomits. This in itself would be glorious, but then he starts rubbing his belly. Everyone knows that wonderful feeling after a good puke where you feel like a million bucks. Therefore I can't help but chuckle every time I see Charlie pat his stomach.

But yes, Dick doesn't take drugs and calls the rest of the guys godless heathens. Nowadays that would mean he'd survive until the end of the film, but in an 80s film it means he's a damn square and must die. And die he does.

Perhaps trying to outdo Stamp in the weird death stakes, Sheen gets shot by an old geezer. But instead of flying vertically upwards like Stamp, Sheen decides to nod about a million times after getting riddled with bullets. It's like he's become a nodding dog.

Once Billy becomes the leader of the gang, the real fun starts. And one of my favourite scenes is when he catches some guy showing off to a girl about how he's going to kill Billy the Kid. The guy is obviously a second-rate gunman, so Billy decides to fuck with him. At the beginning Billy flatters him and then he asks to look at his pistol. And then gradually, he winds the guy up further and further, right to the point that the guy tries to shoot the Kid in the face. But Billy has taken the bullets out of the man's gun and shoots him. Estevez then laughs his manic laugh and asks Doc how many men he's killed. He thinks he's killed 25. Doc tells him he's killed 5. 'We'll make it 10', says Billy, pouncing on the opportunity to build upon other people's myths about him and turn himself into a larger than life anti-hero.

Another amusing Billy moment is when he's in a bath dictating a letter to be sent to the Governor. After a bit of waffle he says that he surrenders. He then thinks for a moment and says, 'PS, I changed my mind. Kiss my ass.' I just love how maniacal the character is. He's a real Puckish figure – he isn't scared of anything.

Hell, Billy isn't even scared in the final shootout when he and the Regulators end up facing the Cavalry. 'I like these odds', he cackles. But poor old Charlie almost shits himself. In perhaps the film's best moment, Charlie begins crying. Billy tells him to pull himself together and Charlie then gets his courage up and starts shooting out of the window like a maniac. Billy then hoots with enjoyment and the two unload on the men outside. It's a real rabble rousing moment.

And another reason why it works so well is because the chemistry between all the characters is excellent. You end up loving all of them. And although Billy is the most fun, it's probably Charlie and Dirty Steve that I like the most. Charlie constantly shits himself at every opportunity, but he proves himself to be a loyal and brave fighter, and Dirty Steve comes good, too. At the beginning he's a mealy-mouthed racist, always hacking on Chavez (Lou Diamond Phillips), but at the end he dies to save the guy. The whole film is infused with the macho notion that as annoying as your friends are, you should do anything for them. And so the final sequence where a few end up dying for their pals gives the film a strange emotional kick.

And Charlie's death, where he gets to go one on one with John Kinney, is magnificent. Like the film itself, it's pure rock 'n' roll wish fulfilment. But in a film that's full of screeching guitars and implausibly good-looking outlaws, it's not out of place.

Oh, and the intro is one of the best things ever.