The Shining
Saturday, May 19, 2007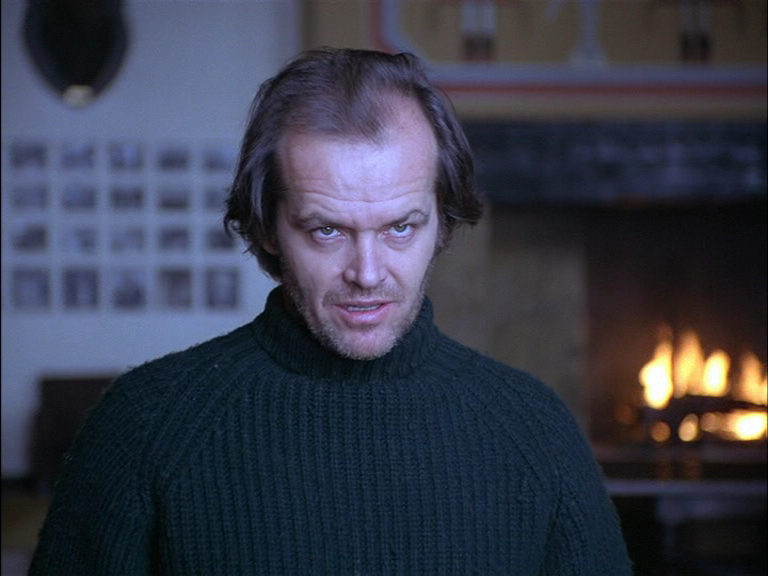 It's well know that Stephen King doesn't like Stanley Kubrick's version of The Shining (so much so that he scripted an abysmal TV movie version). According to him, Kubrick didn't understand the horror genre. Well, I think Kubrick did. I think he understood it only too well. He knew that it was a genre full of conventions, cheap tricks and tired clichés. Therefore Kubrick decided to throw all that nonsense out of the window and make a film based on atmosphere rather than predictable thrills. You don't get people here jumping out of the dark time after time. You don't get worthless shocks. Kubrick's version of The Shining is an insidious film. It gets under your skin. In other words, it isn't for Pavlovian dogs that have spent a lifetime being conditioned by cretinous nonsense.

What runs deepest through The Shining is a frustration with family. Right from the beginning it's obvious that Jack isn't happy with his lot – as he's being shown around the hotel he can't help but take a sneaky look at the backsides of a couple of women. Well, can you blame him? The poor man is married to a bug-eyed, bucktoothed Olive Oil look-a-like.

Then there's Jack's quiet frustration with his son Danny. As he's driving to the hotel, he's bothered by requests for food. And then his son makes out that he's knowledgeable because he saw a programme on TV. Already he's slightly irked - he's got to spend months alone with these people; one who resembles Popeye's missus and one who talks to his finger.

So really the hotel brings out nothing that isn't already there. It merely brings everything to the surface – Jack's resentment as regards his wife, his frustration as regards his lack of writing talent and his annoyance at having a troubled son. It's kind of like he's testing his family. Are they strong enough as a unit to survive being cooped up together?

One of the underlying themes in the film seems to be television. What happens in The Shining is what happens when someone stops watching the idiot box. With it, a person can find solace in mindless programming and retreat from the strictures of family life. Without it they're faced with all their problems and all the failings of their loved ones. Even the strongest family can be brought to its knees when there's no escape from each other's company. Therefore it's quite telling, when Jack loses the plot completely, that he spouts lines from TV: "Honey, I'm home" and "Here's Johnny." Just watch some television, Jack.

But it's also the pain of writing that contributes to Jack's insanity. There's nothing quite as harrowing as an empty page. Plus there's nothing more annoying than being interrupted mid-flow. One of the best scenes in the film is when Jack tells his wife to get lost when she interrupts him. It's extremely violent in how cold Jack is towards Wendy. And because it's grounded in a reality, it's all the more effective.

Also rather unsettling is the scene where Jack talks to his son. He makes Danny sit on his lap and he proceeds to tell him how much he loves him and how he'd never hurt him. It works so well because it's so cold and because there's such an obvious lack of affection. The words are just empty platitudes. They mean absolutely nothing.

Jack's true feelings are only revealed when he gets to talk to Lloyd. It's in this scene that you realise the marriage isn't all it's cracked up to be – Wendy has never forgiven him for accidentally hurting his son. And it's also in this scene that you realise (as if you hadn't noticed earlier) that Jack is absolutely batshit crazy. He's talking to ghosts. But they could also be figments of his imagination, for there are mirrors behind most of the ghosts he talks to. Effectively he's talking to himself. And I love this matter of fact way of dealing with the supernatural. There are no fancy tricks. Everything just seems unnaturally natural.

In fact, everything to do with the ghosts is superbly handled. The twins are spooky, Lloyd is amiable and Grady is out of his mind. And it's Grady who's probably the most chilling presence in the film. He starts off as a bumbling waiter but then quickly becomes a stone cold killer. Just the way he says 'corrected' conveys more terror than a million slasher films. And Philip Stone's performance is a million times more subtle than Nicholson's. I mean, as much as I like Jack in the film, he does chew the scenery. But Kubrick likes his over the top performances, so that's the way he wanted it.

And undoubtedly it's Kubrick's movie. He's the real star. And I love everything he brings to the film. I love his command of lighting – just look at The Gold Room scenes. I love his use of music. I love the way that he turns the Room 237 scene, one that could have been a standard 'jump' scene, into a comment on Jack's marriage – his willingness to be unfaithful. I love the way that he leaves lots of unanswered questions (how the fuck does Jack get out of the store room?). I love the shots of the blood coming out of the lift. I love the helicopter shots at the start. I love the way that pages and pages of typed words are the most frightening visual in the film. I love the maze. I love the fact that you see a ghost getting a blow-job from a ghost in a bear suit… Man, I love absolutely everything about this film. It's horror for people who know that true horror isn't being stalked by a man in a mask, but being trapped alone with your family.