The Damned United
Wednesday, March 09, 2011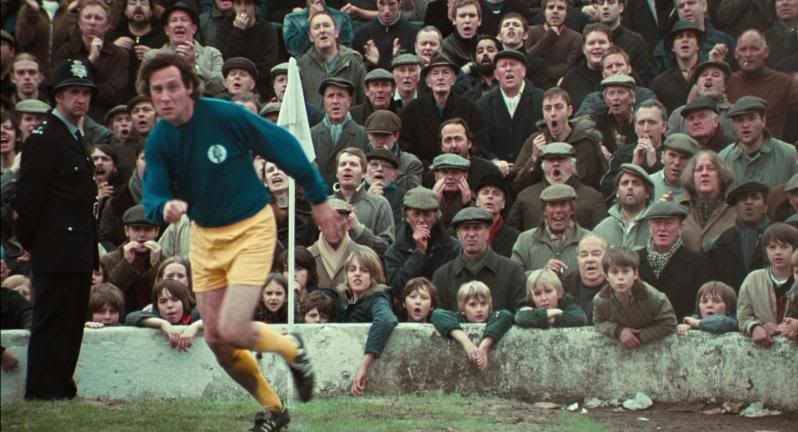 Brian Clough was one of the most amazing managers that the footballing world has ever seen. Brash, loud and outspoken, he took not one but two provincial, second division teams and turned them into English champions (with Nottingham Forest, he even turned them into European champions!). It's a feat that is unlikely to be repeated.

But then there's Clough's tenure as manager of Leeds United. Lasting just 44 days in the job, it was an unmitigated disaster. He alienated the fans, the players and turned a championship winning team into relegation candidates. It's this blip in Clough's illustrious career that is the focus for The Damned United.

Some context: in the late 60s, Leeds United were one of the top teams in England. Under Don Revie, they won English championships and European titles. They played a particularly brutal kind of football, but they were effective. Derby County on the other hand weren't even in the top division; they were bringing up the rear of the second division. But in Brian Clough they had one of the best young managers in the game. Given time, he'd win them promotion and turn them into English champions.

Given that Brian Clough achieved such great things in his career, it's interesting that the film chooses to focus on his lowest ebb. How many times have we seen films where a coach takes a bunch of nobodies and turns them into winners? It's the story of every other sports film. But here we have a film where a manager takes a group of superstars and turns them into losers - it's the sports movie turned inside out.

The film begins with Clough's tenure at Derby. Don Revie's Leeds United are visiting for a cup game and Clough is starstruck. He holds Leeds and Revie in high esteem and orders his staff to fix up the football ground so that it's in a more appropriate condition to be visited by such illustrious guests. He orders that a sign be repainted, that the walls be cleaned and that the pitch look like a carpet (an impossible feat when it looks like a mud bath). In short, he's like a child who is being visited by his idol.

When Leeds arrive, Don doesn't even acknowledge Clough. And to make matters worse, Leeds are less than sporting in the game. They kick lumps out of the Derby players and then one of them dives in order to gain a penalty. And then when the game's over, again Revie doesn't acknowledge Clough – he shakes everyone else's hand. A bigger fuck you, you couldn't ask for.

Clough's subsequent success at Derby, which includes edging out Leeds for the championship, is painted almost entirely as revenge against Revie. Aggrieved that his idol didn't even know or care who he was, he makes sure that everyone now knows who he is.

One of the great things about The Damned United is that it realises that there's more drama off the pitch than on. And it's even more appealing because the off pitch drama features none of the usual football cliches - sex and booze. This is just a tale of revenge, of obsession, of friendship and of ego. It's the story of men in dirty, smelly dressing rooms, plotting revenge against one another. It's the story of muddy boots and rain-soaked pitches. It's class warfare, the north/south divide and the tedious encroachment of commerce exploding in the melting pot of a football match. It's all the little things that make England so great and so frustrating (civic pride, provincialism, passion, anger) brought to you in concentrated form. Where else but in England would the greatest English manager never be given the job of managing the national side? But where else but in England would such a big-headed loud mouth be so loved and adored (he has statues in Derby, Nottingham and Middlesbrough)?

To give you a taste of Clough's arrogance, there's his first training session at Leeds United. Don Revie has left to become England manager and Clough has been hired to fill in the gap. Now how does Clough try and win the players over? Does he pamper their egos? Does he say how pleased he is to be their coach? No. He tells the players that they never won a championship fairly and that they can throw all their medals in the bin because they're meaningless. Suffice it to say, the players aren't impressed. However, it's for this reason and for many others that Clough is so beloved in England. He refuses to pander. He'll only speak his mind. There's no compromise. But even though he's abrasive, Clough is genuine. He's sincere. He's the complete opposite of Revie, who always came across like a second-hand car dealer.

Revie is openly mocked by Clough's assistant Peter Taylor, who laughs at the Leeds manager's various superstitions. But a lot of the drama in the film actually comes from the relationship between Clough and his number two. They're great friends, but as Clough becomes increasingly successful, so he becomes harder to deal with. He begins to attribute Derby's success wholly to himself, lessening Taylor's vital contribution. Clough might be an excellent motivator and tactician, but it's Taylor who can spot potential and help bring players to the club. Both men essentially fill-in each others' weaknesses.

Of course it doesn't help that Clough has to deal with a tedious chairman. As his gloomy employer, Clough's chairman is constantly worrying about money. It's a grim reminder that in modern football money is always the bottom line. Those who have it can buy success. Those who don't have it are forced to struggle. But back in this era, buying power had yet to determine the best teams. Yes, money was creeping in, but you could still have a team that's in the second division one year and is then challenging for the championship the next. That's unthinkable nowadays, but in the 70s the manager was still the boss. The club was run by him, not by foreign billionaires.

So with all of this power and all of this success, Clough does that very English thing of fucking it all up. He pisses off the Derby chairman and then writes a resignation letter on behalf of him and his assistant in a bid to strengthen his position in the club. After all, the board would never accept his resignation, would they? Not after winning them the championship.

Clough does all of this without telling Taylor. Taylor is miffed. He's happy at Derby. It's a home to him. And when the board accepts their resignation, they're cast into the wilderness.

One of the strongest scenes in the film comes during a trip to Spain. Clough and Taylor have been hired by Brighton (a team in the third division!) and are relaxing on the beach. Out of nowhere comes a man in a suit. He's Leeds United's club secretary and he's offering Clough the job as manager. Clough accepts and wants Taylor to join him. But Taylor is outraged. They've only just accepted the job at Brighton. Plus they hate Leeds. Clough says he wants to win the championship with Leeds but he wants to do it better than they did with Revie. An argument ensues and Clough calls Taylor a parasite. It's a horrible, heartbreaking moment and you know that Clough doesn't mean a word of what he says, but pride, passion and ambition have clouded his mind.

Without Taylor, Clough performs dismally at Leeds. The players kick him around on the training ground, they under-perform on the pitch and they even slam the dressing room door in his face. Quite what Clough expected from them, I don't know. He openly criticised Leeds before becoming their manager and then criticised them as their manager. The whole enterprise was doomed to failure from the beginning. But it ends up being a worthy exercise as after he's fired, Clough comes crawling back to Taylor. He literally gets on his hands and knees and begs for forgiveness, finally learning some humility. And it's here as Clough and Taylor are reunited that the film suddenly becomes a bro-mance. It's perhaps the only false step in an otherwise masterful film. I have nothing wrong with the way that the scene is written or acted but the musical choice is poor - some schmaltzy song plays in the background.

But this one misstep doesn't affect the power of the film. Michael Sheen is magnificent as Brian Clough and Timothy Spall is excellent as Peter Taylor. Indeed, this makes the third British icon that Sheen has successfully played. First he played Tony Blair, then he played David Frost and here he plays Brian Clough. But his performance never feels like an imitation. He inhabits the role of ol' big head perfectly.

Another thing that especially pleased me about the film was the use of archive footage. For some reason, it's very difficult to accurately film a football game. It always ends up looking phoney. The Damned United gets around that by showing actual football very sparingly. And then when it does show it, most of it's archive footage. I don't know why, but seeing this old footage is incredibly soothing to me - a warm reminder of the country I love and the country I left behind. Sure I wasn't even born when these games were played, but I consumed them as a teenager and as such they're a part of who I am.

I also loved seeing the real footage of Brian Clough at the end. And to think that after the Leeds debacle Clough and Taylor took Nottingham Forest from the second division to the first division, and then not only won the championship in their first season in the top flight but then subsequently won two European Championships! These men were giants.

However, while the film ends on a high with the footage of Clough bringing the European Cup to Forest, he and Taylor later had another final falling out, one that they didn't recover from. After this falling out they never spoke to each other again. Apparently, when Taylor died, Clough was inconsolable and turned to drink. He even dedicated his autobiography to him with the following dedication: "To Peter. Still miss you badly. You once said, 'When you get shot of me there won't be as much laughter in your life'. You were right." There are victories and defeats in every life. The best we can do is to learn from them. Sadly Brian Clough didn't learn as much as he should have. He was a glorious, tragic figure.

Side note: I didn't realise that this was made by Tom Hooper, the same director as The King's Speech. So that means that I've watched Hooper films back to back. However, as much as I enjoyed The King's Speech, I think The Damned United was even better.